Emergency Number: 0861 SDRIVE (0861 737 483)
Fidelity SecureDrive gives you a safer, smarter and more connected fleet experience.
Fidelity SecureDrive, the latest offering from Fidelity Security, is set to cause waves in the vehicle tracking and telematics market – a move that makes perfect sense for the country's leaders in home security. The partnership between Fidelity and global technology company Amber Connect combines world-class technology with a massive local South African footprint, along with offering high-tech devices that place an emphasis on insurance telematics, smart fleet management and data insights.
With SecureDrive as your driving companion you can get access to:
Real-time tracking with live speed, journey distance, time, and fuel gauge. Switch between map and satellite view, share location via web links or view trips
Create, save, and manage routes, including stops and allocated parking periods.You can assign routes to any vehicle and receive real-time deviation alerts, detailing arrival and departure at scheduled stops
Fidelity SecureDrive also includes a unique tamper-proof feature called Amber Shield, which uses artificial intelligence to detect any threats to your vehicle, and immediately sounds an in-app alarm, alerting the Fleet Manager
Create, assign, and save multiple geo-fences to any vehicle or fleet, and receive real-time deviation alerts
A range of real-time alerts are built into your application, including critical alerts such as collisions and towing; anti-theft alerts, and safety alerts such as fatigue, idle-timing, and door safety
Assign hierarchical user access using a drag and drop mechanism and track all login sessions to ensure compliance
Detailed logs of all your trips with playback and trip breadcrumbing, providing data points of trip time and speed to the second
Create and save driver profiles, assign drivers to vehicles, and receive reports of driver behaviour and vehicle performance
View vehicles by group filters, subgroups or even by which vehicles are moving and which are parked.You can also export real-time location information in Excel or PDF
Schedule and manage service reminders and recall service history by date and time.You can also activate email and in-app notifications to remind you to renew documents
Please fill in the fields below and we will contact you as soon as possible.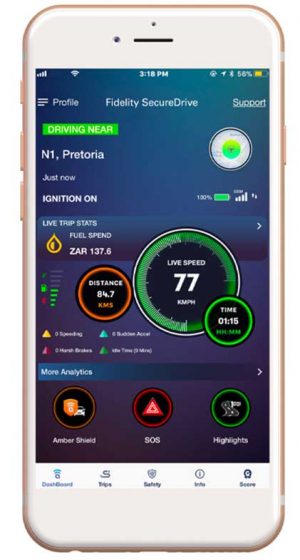 Some of our other services
Fidelity Security Services
Guarding and Specialised Services
Fidelity Security Services
Retail Cash Management Solutions